Tomorrow, Tuesday the 19th of June, Stuart Potter of Veecom Systems; one of our certified partners, will be setting out on his Biggest Journey charity bike ride as he looks to raise awareness of mental health and funds for the charity Mind.
Stuart, a communications consultant and former Fringe comedian, had suffered silently from depression for almost 20 years before his diagnosis.
The avid cyclist hopes his Biggest Journey will help challenge stigma, and inspire others concerned about their own or a loved one's mental health to seek professional support.
Stuart said: "One in four people suffer from some form of mental illness at some point in their lives, but still there is huge stigma and many are afraid to seek help.
"Unfortunately, I was one of those people – looking back, I can't believe I left it so long to get help.
"Becoming a father changed everything. Every parent knows that the early years with a young baby can be mentally and physically challenging, and the loss of freedom to just escape on my bike – my previous coping mechanism – was very hard for me.
"Ultimately, it was love for my family, and my desire to conquer depression to be a better husband and father, which prompted my first step to seek help.
"It has been an incredible year and the support and help I have received from the professionals and now, through Biggest Journey, from hundreds of well wishers, has been humbling and very emotional.
"I would strongly urge anyone struggling with depression to take that first step and seek help – you are not alone and you may be surprised by the support and understanding that is out there."
Stuart has thanked his wife Diane, who is expecting their second child in August, for her incredible support.
He added: "I am so fortunate to have all the love and support of my family, and we are very excited about becoming a family of four this summer."
Track Stuart's progress
We are sure Stuart's family, friends and collegues will miss him while he's gone, but the good news is you can ride along with him every stage of his journey via his gps tracked mobile phone.
To help document his epic journey, Stuart has installed our mobile phone tracking application, which will place him on our map interface, pin pointing his every turn on his way down to London.
Meet Stuart along the way
During his three day journey, Stuart will make four stops to deliver presentations to members of business organisation 4Networking, with the aim of raising awareness of mental health in the workplace.
Stuart will be speaking at Leith, Edinburgh; Darlington; Loughborough; and finally at London Bridge.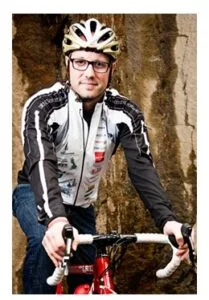 Find out more about Stuart's Journey
If you'd like to find our more about Stuart's journey so far you should check out the following resources:
Biggest Journey Video Blog – candid video blogs documenting Stuart's training and lead up to the big event.